The basic operation is as follows.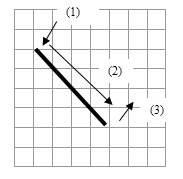 (1) Left-button click at the starting point.
(2) Drag the mouse (Don't leave the mouse button)
(3) Release the mouse button at the end point
You can draw the back stitches in a half grid of cross stitches.
Tools for other stitches

Draw other stitches
Draw the other stithces. You can chose the type of other stitches from the list under the toolbar.

Selection tool for other stitches
Select other stitches
Please refer to "Selecting Other Stitches" section.

Stamp on/off
Use this option to draw the shape by clicking (This is valid all stitches other than back stitches and cutting line.)
The type of other stitches
Cross Stitches: French Knot、Four-Sided
Hardanger Stitches: Klaster Block、Algerian Eyelet、Dove's Eye、WovenBar、Picot、Cutting Line、Button Hole Edge