You can export the chart image as a regular image file.
The file types you can save:
jpg, png, bmp, tif, tga, pcx
The type of image you can export are as follows:
Raw Image: One stitch will be 2x2 dot image. This is because of quarter stitches. (In other word, one quarter stitch = 1 pixel.) Only cross stitch data will be export. (No back stitches, as those are vector data)
Current Image: The exact view you are seeing will be exported. For example, if you are using a view with a real mode and "x4" magnification, the exported image will be a entire chart with that setting. Backstitches will be there too. This is the best way to create a image file of as is of viewing. What you see is what you get as a image file.
Steps:
1. If you want to use "Current Image" mode, set the view magnification, real mode on/off, grid on/off etc. If you want to use "Raw Image", no setting will affect the data.
2. Chose a "File" - "Export" menu item.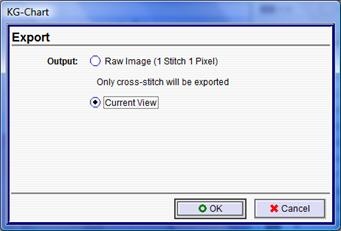 3. Click "OK" and you will see a file save dialog box, and save the file.