When you chose "Other Stitch" on the "Edit Mode" tab, this toolbar will be displayed.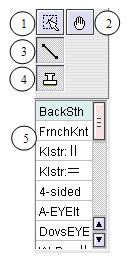 (1) Back Stitch Selection Tool
(2) Drag Tool: Move the view by dragging the view port.
(3) Back Stitch Tool
(4) Stamp Mode on/off
When you select the Back Stitch Tool(3), "Stitch Type" toolbar will show up (5).
If you turn on the Stamp Mode, you can draw the shape by left clicking (except back stitch and cut line)
Supported Back Stitch
Cross Stitch: French Knot、Four-Sided
Hardanger embroidery: Klaster Block、Algerian Eyelet、Dove's Eye、WovenBar、Picot、Cutting Line、Button Hole Edge