The information shown in the drawing area is as follows:
Standard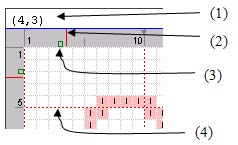 (1) Cursor coordinate (X, Y)
(2) Cursor location
(3) Support line box: Click this to draw the support line. Click it again to clear it.
(4) Sub grid lines. It is shown every five lines. The origin is the center of the chart.
When selection area exists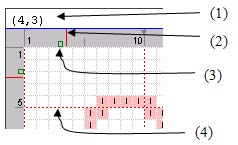 (5) Selection's width and height (W,H)
(6) Selection's coordinates: Start-End