When the chart size is larger than the page size, KG-Chart automatically divide the chart into several pages. In this case, the color table will be in the last page.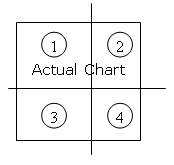 As this won't fit in one page, it is going to be divided into four pages.
The divided charts will be printed horizontal order, and then vertical order next.