To print the chart, use "File" - "Preview/Print" menu item.
The screen below will appear.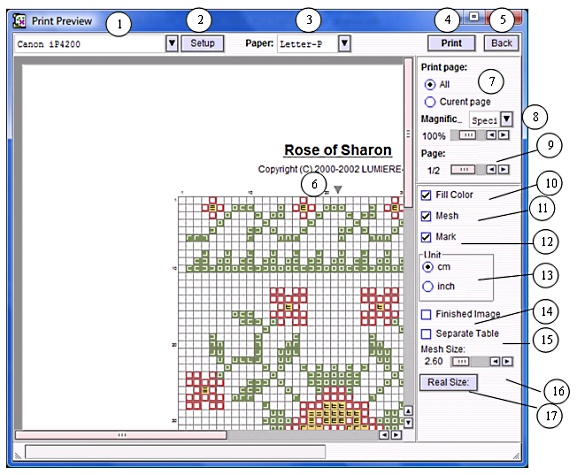 (1) Select the printer
(2) Setup the printer. (Open a printer preference page of currently you have chosen)
(3) Chose the paper size and direction.
(4) Print the chart
(5) Go back to the editing screen
(6) A Preview Screen
(7) Specify the pages you want to print.
(8) Zoom the preview window. It won't affect the print size.
(9) Specify the page number to preview.
(10) To fill the mesh with color, use this option. To actually print the chart in color, use printer setup dialog's color option (How it setup depends on your printer).
(11) To print the mesh, use this option.
(12) To print the mark, use this option.
(13) The unit size of the chart size
(14) To print the finished image, use this option. The first page will be the real image of the entire chart in one page.
(15) To print the color table in a independent page, use this option.
(16) Change the grid size. The value could be 1mm to 4mm. This affect the print size.
(17) Calculate and set the mesh size the actual size of the chart.